Global Marketing & ComEx
·
UA - Kyiv
·
Hybrid Remote
AI Application Specialist
3Shape is a Danish hi-tech company specializing in the production and development of 3D solutions (3D scanners and 3D software) for industrial and healthcare applications, such as hearing and dental aid production, where we have a global leading position.

3Shape is headquartered in Copenhagen, with development teams in Denmark, Ukraine, North Macedonia and with a production site in Poland.
We are a global company with presence in Europe, Asia and the Americas. Founded in a year 2000, today, we serve customers in over 100 countries. Our growing talent pool of over 2000 employees spans 35+ nationalities .
3Shape as an employer is committed to Ukraine. Our UA office has a 16 year-old history, and we are continuing to grow, hire and take care of our employees even during the war in Ukraine. Among other actions, we offer paid military leave to those called to the military service as well as care about our employees' mental health by implementing different supportive activities.
If you are looking for stability and confidence in your future, we are the right place for you.
At 3Shape, we are dedicated to advancing the field of digital dentistry through innovative technology. Our newly established AI Center of Excellence is at the forefront of this commitment. We are seeking an experienced and visionary AI Application Specialist to spearhead this transformative initiative.
Our AI Center of Excellence operates under the Data, Insights & Projects team, with a direct reporting line to the Head of the team. In addition to this, our AI technology is also harnessed across our product development efforts, spearheaded by our R&D department. Your team primarily focuses on the practical applications of AI for the commercial and enterprise sectors, while also striving to cultivate an AI-centric culture and collaborative mindset that extends to R&D and Group IT, e.g., our cloud operations team.
The AI Application Specialists at 3Shape will play a vital role in driving the technical execution and implementation of AI solutions and tools within our organization. This dynamic role requires individuals with a passion for AI, the ability to handle data, configure and train LLMs and ML models, and a knack for building innovative applications. You will work closely with our AI Business Owner to accelerate AI implementation, develop AI-driven use cases, and stay on the cutting edge of AI technology trends.
As the AI Team is fairly new, the right candidate can have a pivotal influence on 3Shape's AI journey. However, primary responsibilities for this role include:
Contribute to the technical execution of AI projects, including the development or administration of AI solutions.
Sourcing, extracting, structuring, and transforming data, creating data models, pipelines, and integrating systems through APIs while orchestrating data flows.
Create and maintain custom applications, driving solution design for both front-end and back-end development needs.
Manage applications including Azure Open AI Services, AI Studio, and Power Platform, and provide training to different teams on their utilization.
Create automation solutions to streamline processes and enhance operational efficiency.
Demonstrate proficient coding skills in one or more of the following languages: Python, SQL, C#, or JavaScript.
About the Data, Insights & Projects Team
The Data, Insights & Projects Team is a group of 14 talented professionals who provide crucial support to the department. Our primary mission is to empower functions and markets with data, analytics, insights, and project management support. We work closely with the Marketing, Commercial, and Customer Success Department and other cross-functional teams to drive strategic initiatives and promote data-driven decision-making.
The role is based in our office in Kyiv, Ukraine.

What we are hoping you have/are:
Master's degree in Computer Science, Data Science, Machine Learning, or a related field.
Demonstrate proficiency and possess relevant experience in AI, machine learning, and natural language processing with a minimum of 2 years.
Strong affinity to work with data, including structuring, transforming, and modeling data and building data pipelines.
Expertise in building and maintaining custom applications.
Experience in driving the design of front-end and back-end solutions for applications.
Proficiency in integrating systems via APIs.
Experience in administering applications, such as Azure and Power Platform.
Demonstrated ability to create automation solutions.
Strong coding skills in Python & SQL for data extraction, ingestion & modelling.
Knowledge of creating applications using C# or JavaScript will be a big plus.
The ability to work independently and as part of a team.
Excellent communication and interpersonal skills.
Eagerness to stay current with AI technology trends and industry best practices.
Being the part of us means:
Meaningful work that helps to change the future of dentistry
Work in a unique professional, friendly and supportive environment
Constant professional growth and development
A healthy work-life balance
Possibility of flexible remote work
Comprehensive benefits incl. 24 working days of annual vacation; medical insurance; compensation of lunches; paid sick leaves and child sick leaves; maternity and paternity leaves etc
Good working conditions in a comfortable office (not open space!) near National Technical University "KPI"
A parking lot with free spaces for employees
Occasional business trips to Western Europe
Opportunity to become a part of the success that 3Shape has created over the past 22 years
Want to join us and change the future of dentistry?
For more information, watch our corporate video youtu.be/38-_SfPBptw, visit our web-site: www.3shape.com or contact by email recruit-ua@3shape.com.
Information about our open vacancies you can find here: www.3shape.com/...porate/Careers/#vacancies
You can follow us on social media:
www.facebook.com/3Shape
www.youtube.com/user/3shape
Department

Global Marketing & ComEx

Locations

Remote status

Hybrid Remote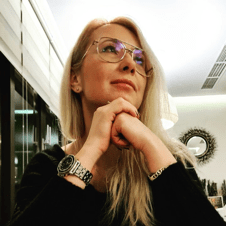 Contact
Liudmyla Saviak
Talent Acquisition Consultant – People & Organization
Our biggest assets are our people and culture 💗
Life at 3Shape is great! We bring passion and talent to work every day to innovate for superior patient care. 3Shape is built on a culture of thinking differently and being innovative when solving challenges. We embrace new ways to exchange ideas with colleagues across departments and think and work in an agile way. Experience the everyday #lifeat3Shape across the globe on LinkedIn.
About 3Shape
3Shape develops 3D scanners and software solutions that enable dental and hearing professionals to treat more people, more effectively and with superior care. We are a global market-leading provider of dental and audio technology for laboratories and clinics.
Our growing talent pool of over 2,000 employees spans 50+ nationalities and is energized by knowing that together, we contribute to a better world.
Two graduate students founded 3Shape in Denmark's capital, Copenhagen in the year 2000. Today, 3Shape employees serve customers in over 100 countries. As a privately-owned company, decisions are made fast, and we remain agile.
3Shape is headquartered in Copenhagen, with development teams in Denmark, Ukraine and Macedonia with a production site in Poland. 3Shape is a global company with presence in Europe, Asia and the Americas.
Global Marketing & ComEx
·
UA - Kyiv
·
Hybrid Remote
AI Application Specialist
Loading application form
Already working at 3Shape?
Let's recruit together and find your next colleague.