Finance
·
DK - Copenhagen
Økonomielev
Bliv en del af en international succes
3Shape
Kickstart din karriere med en 2-årig uddannelse hos en af Danmarks hurtigst vækstende MedTech virksomheder og gazelle vinder, 3Shape.
Sted
Niels Juels Gade 13, 1059 København K
Praktisk
Ansøgningsfrist: 31. maj 2022. Tiltrædelse: Hurtigst muligt
Kontakt
Finance Manager, Filip Birch Lindevall, Tlf.: 22 45 82 68
Vi tilbyder
Hos 3Shape bliver du en del af et Internationalt og foranderligt miljø, hvor der er rig mulighed for at du kan præge din egen hverdag og sætte dit aftryk på 3Shapes fortsatte succesrejse. 3Shape huser højt kompetente og motiverede medarbejdere, samt en stærk feedback kultur.
Derudover tilbyder vi et attraktivt arbejdsmiljø med dygtige og engagerede kollegaer. Vi fremmer en virksomhedskultur bygget på gensidig respekt og åbenhed mellem leder og medarbejdere; stærk holdånd; konstant faglig udvikling som grundlag for en motiveret og højt ydende organisation.
Et 2-årigt uddannelsesforløb hos os kendetegnes ved:
En stejl læringskurve, hvor din faglige og personlige udvikling altid vil være i fokus
Mulighed for at påvirke dine opgaver og være med til at designe arbejdsprocesserne
Opnåelse af stærke kompetencer indenfor økonomi og regnskab
Vi forventer at du:
Har gennemført en relevant ungdomsuddannelse med tilfredsstillende resultat
Er struktureret og detalje orienteret
Har flair for tal
Velformuleret i skrift og tale på dansk og engelsk
Har et godt humør, er positiv, ansvarsbevidst og engageret
Vi håber ovenstående har fanget din interesse og ser frem til at modtage din ansøgning, cv, eksamensbeviser samt andre relevante bilag.
Vi tilbyder
En attraktiv kontoradresse ved Kongens Nytorv i København
En god sundhedspakke, så du kan holde dig sund og rask
En lækker og varieret frokost fra vores fremragende kokketeam
Et levende, ungt og internationalt miljø med sociale, mangfoldige og højtkvalificerede kollegaer – vi er mere end 30 nationaliteter her i Danmark
Et godt socialt miljø med mange sammenkomster og sociale klubber
Et fleksibelt miljø både på kontoret, og når du arbejder hjemmefra
Sådan ansøger du
Ansøgninger behandles løbende, så send din ansøgning hurtigst muligt via linket "ansøg nu".
Vi opfordrer alle kvalificerede ansøgere til at søge. Vi bakker op om og er dedikeret til mangfoldighed og mener, at vejen til at opnå de bedste forretningsresultater er at skabe mangfoldighed blandt medarbejderne i vores virksomhed.
Om os
3Shape A/S er en dansk virksomhed med speciale i udvikling og markedsføring af 3D-scannere og CAM/CAM-softwareløsninger til brug, bearbejdning, analyse og håndtering af højkvalitets 3D-data.
3Shape ændrer tandplejeindustrien sammen med tandlæger over hele verden ved at udvikle innovationer, der giver overlegen tandpleje til patienter. To kandidatstuderende grundlagde 3Shape i år 2000, og i dag betjener virksomhedens hurtigt voksende team af medarbejdere på 16 kontorer verden over kunder i over 100 lande.
Let's change dentistry together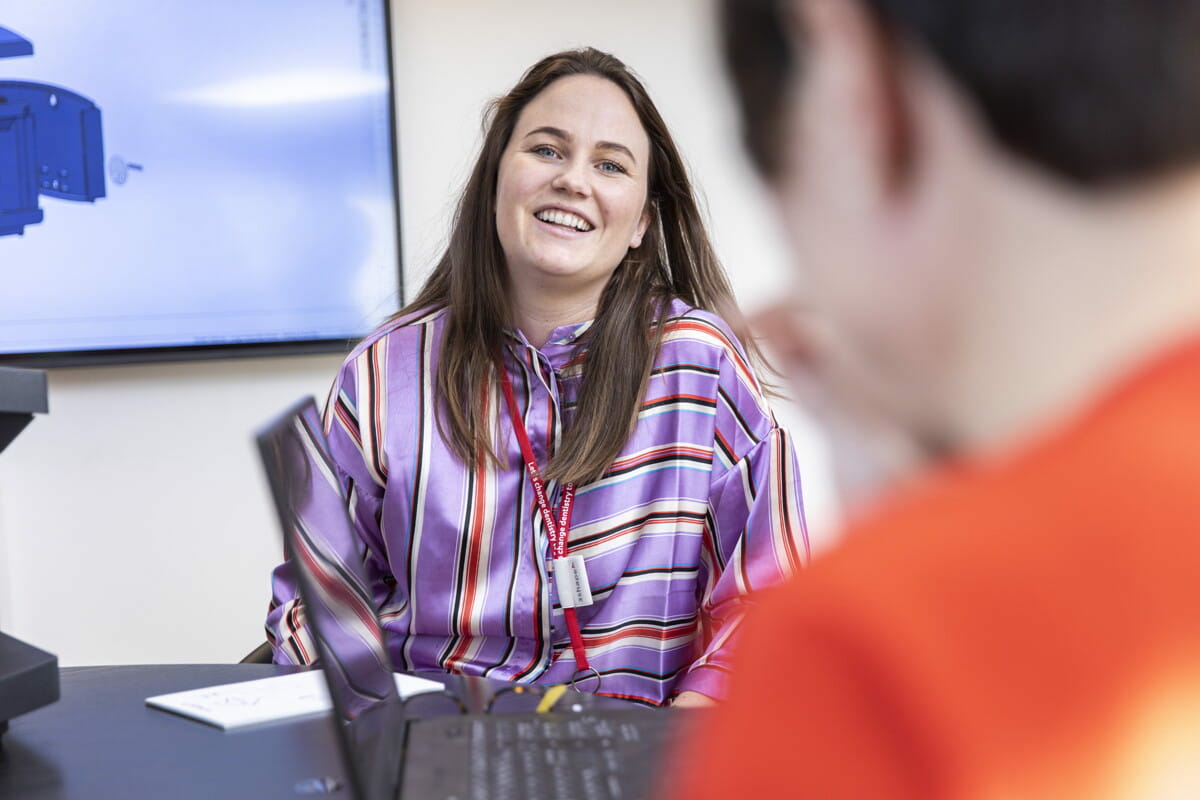 We encourage all relevant applicants to apply. We are committed to celebrating human diversity, and we trust that the best way to reach outstanding business results, is by welcoming diverse people into our community.
About us
3Shape started with a simple idea - to make 3D scanning better. First, we applied it to the hearing industry, then we succeeded in dentistry. Twenty years later, 3Shape has 2,000+ employees globally. With the help of dental professionals and amazing colleagues we're creating award-winning scanning and CAD/CAM solutions to change dentistry together! Together, we contribute to a better world. Experience the everyday #lifeat3Shape across the globe on Facebook.
Department

Role

Controlling

Locations
Our biggest assets are our people and culture 💗
Life at 3Shape is great! We bring passion and talent to work every day to innovate for superior patient care. 3Shape is built on a culture of thinking differently and being innovative when solving challenges. We embrace new ways to exchange ideas with colleagues across departments and think and work in an agile way. Experience the everyday #lifeat3Shape across the globe on Facebook.
About 3Shape
3Shape develops 3D scanners and software solutions that enable dental and hearing professionals to treat more people, more effectively and with superior care. We are a global market-leading provider of dental and audio technology for laboratories and clinics.
Our growing talent pool of over 1,600 employees spans 35+ nationalities and is energized by knowing that together, we contribute to a better world.
Two graduate students founded 3Shape in Denmark's capital, Copenhagen in the year 2000. Today, 3Shape employees serve customers in over 100 countries. As a privately-owned company, decisions are made fast, and we remain agile.
3Shape is headquartered in Copenhagen, with development teams in Denmark and Ukraine and with a production site in Poland. 3Shape is a global company with presence in Europe, Asia and the Americas. Check out the ratings of 3Shape as employer on Glassdoor.
Finance
·
DK - Copenhagen
Økonomielev
Bliv en del af en international succes
Loading application form
Already working at 3Shape?
Let's recruit together and find your next colleague.